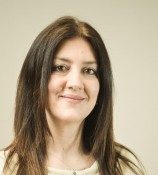 ELEONORA NADJ – PRACTICE MANAGER

I believe that a collaborative team and awesome clients are the most valuable assets in a business.
Being a Practice Manager means that my number one client is the firm, and my primary focus is the firm's performance. I often rely on our clients' feedback (be it positive or negative) to ensure that we are on the right track. My problem-solving skills and ability to remain calm and rational in a crisis is why I am the first point of call.  It's an exciting role with a lot of responsibility that keeps me motivated and entertained! 
Clients will normally be introduced to me if they are setting up or buying a new business as it is my responsibility to set up the new corporate structure, assist with business names and apply for the appropriate ATO registrations. Upfront fee quotes and our invoices will also get clients familiar with me, if you have an outstanding debt with our office this will prompt me to call you!
It is my opinion that in business communication is key, as long as we are communicating then everything else will fall into place.