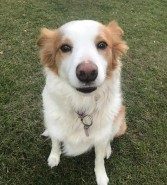 JESS - Head of Security (Qld)

Even though I'm now classed as a "senior" dog (grrrrr), I still act like an overgrown puppy.
But don't let that fool you - despite my usual playful disposition, I take my role of Head of Security / Protector very seriously.
When I'm not on the job, I love taking long walks on the beach, having my belly rubbed, going camping, and you can't keep me away from a good game of soccer! I may not be so good at bringing the ball back though.....